--------------------------------------------------------------------------------------------
I remember that my parents had some records when I was a kid, but I can't remember what many of them were other than one being Frank Sinatra's 1956 release called "Songs for Swingin' Lovers", another being by the Dutch Swing College Band, another being a Glenn Miller one and for some reason there was a record of some of Winston Churchill's war speeches.
Growing up near my uncles and aunties in Leicester, I would spend time with my older cousins - I suppose that I was shoved onto them and I can't remember much interaction between me and them, but I do remember being with them when they were playing Beatles stuff. I loved the album cover of "Help!" (1965) but I remember that the song I liked most was "Love Me Do" from their first record ("Please Please Me" - released in 1963). I think that I liked that track because of the harmonica playing.
I would have been about 4 or 5 years old at that time, but the first record I remember listening to at home was one that had the Winnie the Pooh song on it - so I liked that song because I liked Winnie the Pooh. And there was also the music to Disney's version of Jungle Book, so as that came out in 1967, I am guessing that I was 6 or 7 years old.
I also clearly remember listening to the radio and enjoying a song by The Move called "Get the Fire Brigade" that was released in 1968 – a catchy tune for a kid to latch on to.
Between The Beatles and The Move, I did go to my first gig - ok, it wasn't a gig, it was a show. I remember that it was at The DeMontford Hall in Leicester and the variety of entertainment was certainly broad. There was a chap called Reginald Dixon who, from memory, just sat there with a stupid grin on his face as he played a large Hammond Organ that might even have risen from beneath the stage. No singing or other instruments - just him, a stupid grin and crap songs. Then there was other stuff that is just a vague memory of tedium. Then there was Basil Brush - I think that's what I had been taken along to see (I actually met him back stage and he did well to talk considering there was a man standing next to him with his hand up his arse). And the finale was a chap singing in a weird way. I couldn't understand it - if I sang like that, my mum would have told me off and told me to sing properly or not at all. The singer was Frank Ifield and the stupid man kept yodelling, but not for any reason that I could see - it wasn't that he was drunk - he actually chose to sing that way - weird stuff indeed.
In terms of buying music, I remember that when I moved schools (from Junior to secondary), the class bought our teacher, Mr Lee, the number one single of that time (May 1972). He must have been thrilled that the number one record was "Mary Had a Little Lamb" by Paul McCartney. What did we know about music? We were kids and assumed that people liked the song that was at number one – even if it is a piece of number two. Actually, I just looked it up and it is a Wings song – he probably did that so that he could share the blame.
But in terms of buying something for myself, I have a vague (and scary) memory that for a birthday present, I had received a record token that I had used to buy "My Coo Ca Choo" by Alvin Stardust. This would have been around 1973, so how was I to know better at the age of 12.
--------------------------------------------------------------------------------------------
I know that for another birthday, my parents brought me Elton John's "Captain Fantastic and the Brown Dirt Cowboy" (1975). I took it back to the shop and with the help of a record voucher, I swapped it for Elton's earlier (1973) double album "Goodbye Yellow Brick Road" – I used to play that all the time and therefore that is my record choice NUMBER 1. It is great that Elton's still around and about and gigging away – he's been going for all these years and he still has a full head of hair – who would have believed it?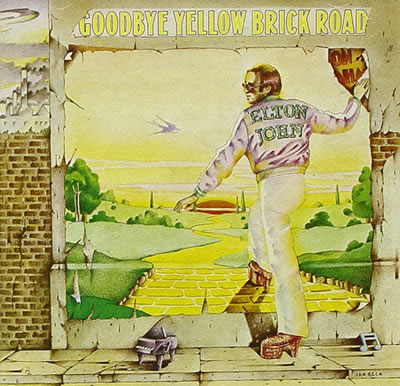 --------------------------------------------------------------------------------------------
The music world at that time was a strange beast. The charts were full of glam rock and acts would appear and disappear at the blink of an eye. Leicester's contribution to this world was the group Showaddywaddy who dressed as Teddy Boys and sang lots of covers of old rock and roll songs – they had a few top 10 singles and even a Number 1, "Under the Moon of Love". I loved lots of music at that time, none of it was good enough to keep me interested for too long. I was a big T-Rex fan and there are loads of their tracks that I love, but I don't think that I ever bought an album - this was a time when I was buying only singles.
My sister (Louise) was two years older than me and therefore the music in the house was more of hers than mine. Though she now claims to have been a really cool kid with great and alternative musical tastes, I have no memories of that being the case – I definitely remember there being at least one Barry Manilow album in there. In fact, the first proper gig I went to was with her and her friends - I think one of her friends couldn't make it so I went in that friend's place. I shall make no further comment other to tell you that it was to see The New Seekers (of "I'd Like To teach The World to Sing" fame) - enough said?
But I am a fair man and will say that she redeemed herself as she took me to one further gig (once again because a friend pulled out of it), but this time it was to see the Jackson Five - now that was a great thing to do. I have memories that I might have been on the verge of liking the Osmonds at that time, but that gig brought me back from the brink of dullness into the world of music – if I had gone down that road, I probably would now be a person who listens to Michael Bolton or even (god forbid) Celine Dion.
--------------------------------------------------------------------------------------------
She also had some music that I liked - she played Carole King's Tapestry a lot and I loved that. And she also played Simon and Garfunkel's, "Bridge Over Troubled Water" which I would have as my NUMBER 2 album - I used to play that (plus their Greatest Hits album) a lot – the songs are still favourites to this day. I was fortunate enough to get to see them play a gig at Wembley Stadium soon after their Concert in Central Park. The Central Park gig was recorded and it is a great record too – when I listen to that, I see them at the gig I was at in 1982.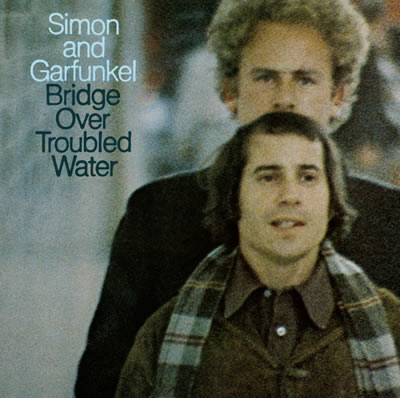 --------------------------------------------------------------------------------------------
I remember back in the mid 1970s being at the home of family friends in London and hearing the "Original Soundtrack" album by 10CC and finding it fascinating as it wasn't just an album of songs but was telling stories. It was an interesting album indeed and played a part in my adolescence as it contained the song "I'm Not In Love" which was always the slow song played at discos where you'd try and build up the courage to ask a girl to dance and see what else came your way. If the slow song wasn't that one, then it would often be Leo Sayer's "When I Need You" that would be the snogging song – I actually like that song, but it is ruined by the fact that Leo is such a knob.
A lot of the music that I have listened to has been blues and I remember my first real introduction into the blues world was round 1975 at a mate's house and he played me his uncle's copy of the 1968 self titled record by Peter Green's Fleetwood Mac. It had a song called "Shake Your Money Maker" on it. I enjoyed that song and the rest of the record and it opened the door into my appreciation of blues that is still a healthy appreciation today.
I was staying with a friend in London in 1977 when it was announced that Elvis has left the building – feet first. I did have an Elvis Presley Greatest Hits record and liked it – but I wasn't a huge fan, but it was strange to see the reaction to his death – it's the first time I'd seen such an effect from a celebrity dying. Elvis Presley – too young to die, too fat to live. Ho hum.
When I was studying for my o-levels (1977), I remember that I used to listen to Mike Oldfield's "Tubular Bells" quite a lot, but I can't remember why or what I got from it. I don't remember it being a favourite album – it was just something to listen to whilst revising – maybe it was the lack of lyrics that made it the record of choice. It was around that time that I also used to listen to Camels, "The Snow Goose" – again, it may have been the lack of lyrics that made it attractive to listen to when supposedly studying.
--------------------------------------------------------------------------------------------
It was when I was about 17 that I bought my first copy of Pink Floyd's 1973 masterpiece, "Dark Side of the Moon" which is an album that I still like today. Liking the album also includes me liking the live version from the 1995 CD, "The Pulse". Another version that I like is "Dub Side of the Moon" (2003) where a number of reggae acts (under the name The Easy Star All Stars) each perform one of the tracks to make the CD of the album. "Dark Side of the Moon" is often picked as a favourite album and it is incredible that it continues to attract audiences still. I don't know what it is about the CD – it just works – as simple as that. It has to be my choice NUMBER 3.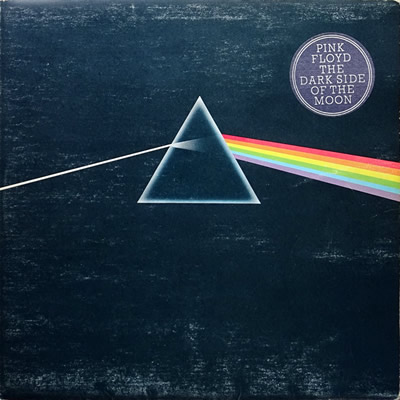 --------------------------------------------------------------------------------------------
Now let's take a moment for me to mention the beautiful and talented Kate Bush. I have been a fan since 1978 when she released "Wuthering Heights" from the wonderful 'A Kick Inside' album. Kate appears to live in a strange world but through her talent and music, we get the pleasure of seeing snippets of it. I have loved most of what she's done and at different points I have favoured different albums of hers. Let's be honest here (I resisted saying "let's not beat around the bush here"), I love the woman. She's only three years older than me and I had always assumed that we'd end up married when we met – but the meeting never happened, so she's had to settle for somebody else. Because she has been a constant in my world for so long, I needed to have something of hers in my top 10, so I'll add 2005's double CD called "Aerial" as my NUMBER 4. It is a masterpiece and offers so much - I hope that we haven't heard the last of her.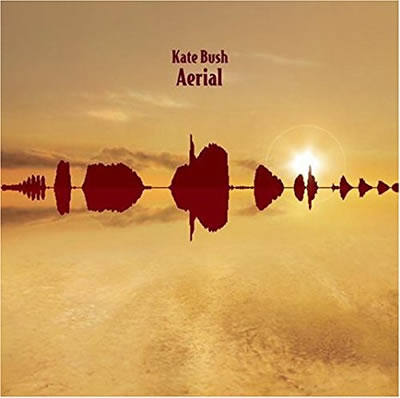 --------------------------------------------------------------------------------------------
Back in 1979, I left school and got my first job. My school had been Gateway Sixth Form College and it was next to Leicester Polytechnic and me and my mates used to go to the discos at the Polytechnic pretending to be students there. It was at that time when I fell into listening to what other people liked and behaving how other people behaved. We all have to learn from somewhere and if I had my time again, I certainly wouldn't have learned by watching drunk friendless students, but I was young and didn't know any better. I guess that the scenes that played out at University discos were repeated around the country - the same music and actions could be seen in any dark, smoky student campus. I think that my lowest point came when the lights came on at the end of one night and I realised that I was playing air-guitar to "Freebird" by Lynyrd Skynyrd – what a sad tragic I must have been. Sigh.
But it wasn't all doom and gloom as around that time, I did discover lots of music that excited me. There was a group called The Crusaders who played soul/funk music – they had a hit with "Street Life" featuring Randy Crawford on vocals. I used to love listening to their double 'Best Of' record – it was fantastic and showed what a talented group of musicians they were. Unfortunately it never made it to CD, so I have never been able to relive those days – the current version of 'Best Of' doesn't nearly match up to that original one.
So my teens passed with lots of glam stuff and few other genre's actually making their way into my world. I did enjoy my music, but a lot of it had a short shelf-life. And when punk arrived at the end of the 70s, I wasn't ready for it and there was little in there for me. Having said that, some great music was born out of the flames of punk.
--------------------------------------------------------------------------------------------
At this juncture I want to mention an album that I like for a number of reasons. It's called "The Last Waltz" by The Band and I think I became aware of it in 1980. After being Bob Dylan's backing band for a few years, they went solo and produced a number of CDs before breaking up in 1978. "The Last Waltz" is the triple album of their farewell concert. Other than The Band being an incredibly talented group, the album also features many wonderful performers and hearing this album introduced me to new acts and showed me other sides to artists I had heard. When I first heard this record, I remember how much I loved the performances of Dr John, Neil Young, The Staple Singers, Joni Mitchel, Van Morrison, Neil Diamond and even Bob Dylan. In fact, this was my first introduction to Dr John and that makes it special in itself. Over time, the record has been re-released with additional tracks and can now be bought on DVD with various interviews etc. So the album becomes NUMBER 5 for all it has given me and I still enjoy it today.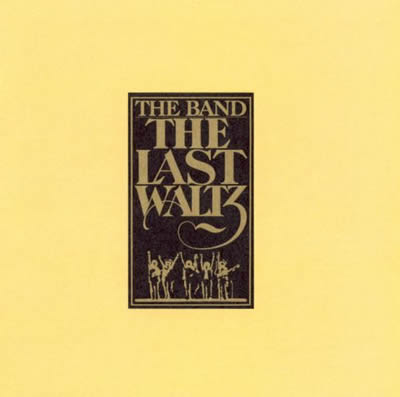 --------------------------------------------------------------------------------------------
In the 80s, I came across an artist called Martin Stephenson, though I can't remember who introduced me to his stuff. He is another act that I have seen several times. The first record I got of his was 1988's "Gladsome, Humour & Blue" and over the next few years he put out a number of records – all of which I bought and like. He is a fine guitarist and singer and he is a very amusing chap, but I think his strength is his song writing. I got to chat with him a couple of years ago when he was over here and he is also a very interesting man. This is another example of me loving loads of songs over a number of albums, but not really having a favourite album.
I recall back in 1985 seeing a TV documentary about an Irish singer who sounded fantastic. I went and bought her record called "Tired and Emotional" and was captivated by it. I can't put my finger on what it was that grabbed me back then, but it was probably her delivery as much as the songs. Her name is Mary Coughlan and I have continued to buy her stuff over the years and have seen her perform a number of times. Again, I like her and a lot of her material, but I don't really have a favourite CD, though that first one has been listened to most.
Back in the late 1980s, I was watching the Jonathan Ross Show and he had a guest I hadn't heard of before and she sang a blues song with incredible power and emotion and I rushed out to buy an album of hers only to find that it was a Country one! This was my introduction to k d lang. On the whole, Country isn't my thing, but with her, it was that or nothing. Over time she has shown more and more angles to what she does and her voice is an incredible instrument – her version of Roy Orbison's "Crying" is just stunning. Anyway in 1997 she brought out an album called "Drag" where all the songs are related, in one way or another, to smoking. When this album showed up, I used to listen to it a lot, but it doesn't make the top 10 but I thought that I'd mention it.
From the 80s, I'd like to mention two acts whose music I loved and still do. There was the amazing Squeeze who churned out hit after hit and rarely made a record that was bad – I can't pick a favourite album, but I guess their Singles CD tells a big part of the story – marvellous stuff. The other band was The Housemartins who only made three albums but they were all goodies and their greatest hits album, "Now that's What I Call Quite Good", still gets play time from me. One member of the Housemartins is now Fat Boy Slim and another is in The Beautiful South.
In 1991, I had a brief move to the US (Madison in Wisconsin) and whilst there, I was exposed to a lot of Stevie Ray Vaughan's stuff and when I got back, a posthumously released Stevie CD called 'The Sky Is Crying' became a favourite for a time – I have bought more stuff by him since, but that one remains my favourite.
Around that same time, I was playing the two soundtrack CDs from the movie The Commitments, but once again it was a shortish period – though it came to mind as I scanned my memory. I also thought about Fleetwood Mac's 1977 album, Rumours. I certainly remember liking that around the time I first started work, but I think that I may have played it to death and it certainly isn't one for the list either.
--------------------------------------------------------------------------------------------
Back in 1992, I met the lovely Charlotte and it was a very special time for me and at that time, her favourite CD was "The Future" by Leonard Cohen. I was working up in Leeds and she lived in Northamptonshire, so the distance wasn't ideal. With all the driving I had to do, I'd listen to that CD a lot. I liked Leonard anyway, but that album took my appreciation of him to a new level. Other than this CD carrying a lot of emotion for me, it feels right that Leonard should feature in my top 10 – he's given me a lot. Out of all the CDs of his, this one feels more personal to me and therefore it is NUMBER 6.
--------------------------------------------------------------------------------------------
In 1994 I was living and working in Bristol and the girl who I was lodging with used to play a lot of Mary Black material. Mary is a very popular Irish performer and has a beautiful voice. I went to see her a couple of times and she was ok, but to me she is one of the few acts who come over better on record than live. I used to listen to her 1992 CD "The Collection" and loved it – what a voice.
--------------------------------------------------------------------------------------------
In 1996, I was wandering around a CD shop in Southampton (as you do) and was blown away by the music they were playing. It was by an artist that I didn't know at that time and who has since become a big favourite. The artist was Angelique Kidjo and the album was "Fifa". Soon after that time, I moved to Cardiff and "Fifa" was a CD that I played continually during my time there – I never tired of it and still haven't and therefore it is NUMBER 7. I was living on a marina in Penarth at that time and the sun was shining a lot and the energy and feel of the CD fitted nicely with the mood of the environment.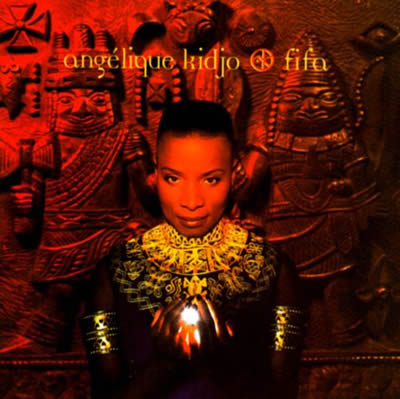 --------------------------------------------------------------------------------------------
When I arrived in Melbourne in 1998, the first gig I went to was the penultimate show by Hunters and Collectors which was a hell of an introduction to local music. What a collection of songs they had put out. I have seen Mark Seymour (their lead singer and writer) a number of times since, but he has never recreated the magic of that night. But he has evolved into another beast now and deserves to be judged on his merits and not just a period of his life.
Around that time, I first heard the voice of Eva Cassidy who had died in 1996 but had become popular in the UK when she was played a lot on the radio by Terry Wogan. I bought the CD "Songbird" and was blown away by the emotion of her voice and the arrangements of the songs that she sang. It would have been incredible to have seen her live, but at least we got to hear her.
When I think of singers, the standout voices all tend to be females – men's voices can be good of course, but few male artists are known for their voices as much as their performances. But there is one man whose voice I consider to be his greatest talent and that is Solomon Burke – it doesn't really matter what he sings, it is the voice that makes it – luckily, he sings fantastic soul music, so that double's the pleasure. There are no special albums to mention really (maybe 2002's "Don't Give Up On Me"), but he's worth a mention anyway. I guess that the female equivalent of Solomon is the incredible rich-voiced Mavis Staples – either solo or with the Staple Singers, her voice is a special thing indeed.
A couple of years ago, somebody had mentioned that I should look out for a group called Anthony and the Johnsons, so when I saw that they were in town, I contemplated going, but the gig sold out before I could. Then I heard that they were doing an extra gig at a small venue in Richmond so I got a ticket to that. I turned up never having heard the band and found myself a seat and then the show began. I don't know whether I've been amongst so many people who were silent at a gig before – Anthony (Hegarty) had us in the palm of his hand and provided some incredibly gentle and moving performances – he had a band with him, but it was mainly him singing and playing the piano. It was a very unexpectedly moving gig and I then bought what was his latest CD "I Am A Bird Now" which is a great CD and it has great songs, but it is the memory of the gig that makes it special. It was a favourite for a time.
A few years back, a mate of mine back in the UK (Alison) told me that she was enjoying the debut album of a chap called Damien Rice – the album was simply called "O", so I thought that I'd have a listen and found it to be an incredible album – it carries a lot of emotion and works as a complete album as opposed to a collection of songs. I tend to have my ipod playing random songs from the 10,000 I have copied onto it and when a track from this CD comes on, it makes me go and listen to the album – like a song on it's own isn't enough. Another CD that works the same way on me is last year's "An Other Cup" by Yusuf Islam (Cat Stevens). I found this CD to be fantastic – great songs and performances and intelligent too. I hope that he releases more stuff.
--------------------------------------------------------------------------------------------
Now having mentioned Squeeze earlier, I have to dedicate a paragraph to Jools Holland who is a bit of a hero of mine. I first knew of him vaguely from Squeeze, but then he became co-presenter with Paula Yates of a live music program called The Tube that began in 1982. It was watching that program that I got to experience more and more different artists and with the humour of Jools and his love of music, it was a great program to watch. He played keyboards/piano with so many of the acts too - what a job it must have been for him. After The Tube, he dabbled in many things and now has the best music program there has ever been called 'Later with Jools' that attracts just about every artist/band that there is. I have been to see him a few times with his big band behind him, they belt out the best music around and his albums and DVDs feature many incredible pieces of music and incredibly talented and famous acts. I love boogie woogie music and there is no better exponent of that than Jools. I want to pick a Jools album for my top 10, but I can't decide which to pick. The one I have been listening too recently is the rather excellent one he released in 2004 with Tom Jones. But to pick one, I will pick the 2005 release called "Swinging The Blues Dancing The Ska" as my NUMBER 8. Other than being a great CD musically, it also features guests such as Sam Brown, Solomon Burke, Ruby Turner and Beverley Knight. Oh boy!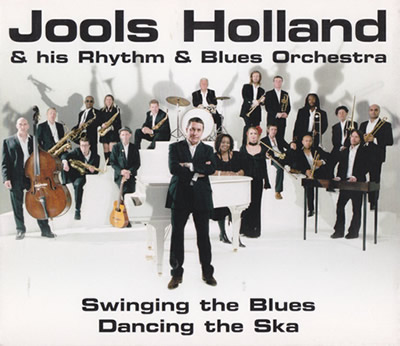 --------------------------------------------------------------------------------------------
A lot of the music that I have bought has been after having experienced a band/artist live and rarely does the album match the live show – there is a real energy in live music that you have to be there to experience.
I remember back in 1980 going to visit friends who were studying in Huddersfield and at the University, there was an artist playing called Ruby Turner (as mentioned in relation to Jools) – what a voice and what a show. I bought a couple of her CDs and they just didn't live up to her live shows. Over the years that has changed, but she is still an act to see live.
--------------------------------------------------------------------------------------------
A huge favourite of mine is Eddi Reader who I first heard when she was lead singer with Fairground Attraction who had a big hit with "Perfect" in 1988. The first time I saw her live was at the Guildford Festival in 1996 which was a special day as it was at that festival on that day that Peter Green returned from his reclusive life and rejoined the music world. Over the years, I have seen Eddi a few times and I have every solo CD that she has made. The number of her tracks that I love is a long list – I once tried to make a 'best of' CD but I couldn't narrow down the list of favourites to make that possible. To see her live is an incredible experience and she conjures such a beautiful and moving sound. I'd love to have Eddi in my top 10 as listening to her always takes me to a beautiful place. I love her version of Dick Gaughan's "What you do with what you've got" from her first solo CD called "Mirmama" (1992) but I will pick her 2001 album, "Simple Soul" as my NUMBER 9, but I really do struggle to choose a favourite as I just love all that she does. When Eddi tours, her guitarist is the incredible Boo Hewerdine who is a performer in his own right and whose songs Eddi often covers – so that's a bonus too. (Boo's song "My Last Cigarette" was covered by k d lang on her "Drag" album.)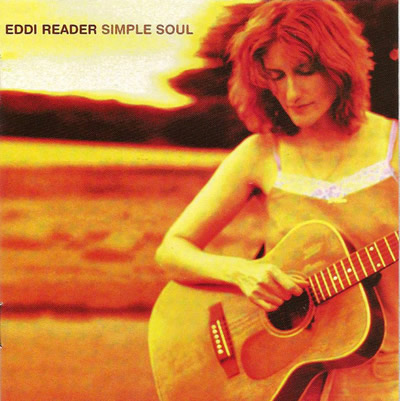 --------------------------------------------------------------------------------------------
I mentioned the pleasure I get from listening to the piano playing of Jools Holland, well there are a number of piano players who I like. When I hear boogie woogie or blues piano, I always imagine that it is me playing - I should mention that my piano playing is very similar to that of Ray Charles – well, that would be Ray Charles before he'd ever played a piano before – ok, I admit it, I can't play the piano. Other favourite pianists are Dr John, Johnnie Johnson, Pete Johnson, Albert Ammonds, Dorothy Donnegan, Meade Lux Lewis, Art Tatum and so many others that I delight in listening too – but Jools rules the roost for me because of all the other aspects to him and the sort of history I have shared with him. But I digress – let's get back to the job in hand.
I'd like to take a moment to discuss some local music as there is so much quality around Melbourne. I go to quite a lot of live music and am continually astounded at the quality on offer. Whatever the style you want, there is quality stuff available. There are just too many acts to list out, but my love for these people is rarely related to their records as much as to their live shows.
--------------------------------------------------------------------------------------------
Having said that, I have chosen a local release as my NUMBER 10 choice. The choice is "Tell The Angels" by Vika and Linda. I have probably seen Vika and Linda (the Bull sisters) more than any other local act. They are amazing vocalists and they have a superb band to back them. "Tell The Angels" is a live gospel CD recorded in 2004 over 12 Sundays at a local venue. I was at each of the shows and watched the show evolve as songs were dropped and new ones added and the songs were fine tuned and the best of the recordings went to make the CD. I like gospel music anyway and it was a pleasure to see how this CD came into being - and as Vika and Linda have been a part of my world for the last few years, I decided to include their album. Having said that, the new soul stuff they are doing is going to make a sensational CD too, but I am getting ahead of myself.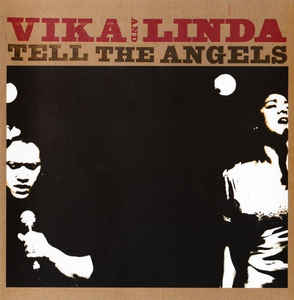 --------------------------------------------------------------------------------------------
To mention a few more local acts: There is the incredible Chris Wilson who is just a star – mainly in blues, but he is versatile and straddles a few styles. There is the story telling and voice of Archie Roach who has penned some fantastic stuff. In terms of blues guitarists, there is Geoff Achison, Lloyd Spiegel and Shannon Bourne. In the jazz world there is Paul Williamson, Gil Askey and the Cat Empire. In the country world there is Cyndi Boste. For Reggae there is Nicky Bomba. And then there is Bluehouse who are a class act. There are just so many – maybe it is easier to not try and list them out.
A quick mention for another fantastic local band that sadly are no longer performing. They were Tiddas comprising of Sally Dastey, Lou Bennett and Amy Saunders – I used to love going to their gigs and would marvel at their power and harmonies.
A band that aren't really a Melbourne band (but used to be) are The Waifs who I have seen a number of times and each time I have walked away thinking that their shows couldn't be any better – I just love them so thanks you to Josh Cunningham and Donna and Vicki Simpson. Incredible.
I think that I should end this ramble with my current favourite CD. I never would have thought that I'd include him in a list of things that I like. Not that he does bad things, but he doesn't really do it for me. The act in question is Bruce Springsteen and when I was back in the UK recently, my mate Rocky was playing this particular CD and I loved it. I have now bought it and it is a damn fine album – it has a lot of musicians performing and a hell of a lot of energy – it just makes me feel good to listen to it. The CD is called "Live in Dublin" and it's a lot of the songs from his recent CD called "We Shall Overcome". I am loving it.
--------------------------------------------------------------------------------------------
So, in summary, here is the top 10 that I've come up with:
1. Goodbye Yellow Brick Road by Elton John
2. Bridge over Troubled Water by Simon and Garfunkel
3. Dark Side of the Moon by Pink Floyd
4. Aerial by Kate Bush
5. The Last Waltz by The Band
6. The Future by Leonard Cohen
7. Fifa by Angelique Kidjo
8. Swinging the Blues Dancing The Ska by Jools Holland
9. Simple Soul by Eddi Reader
10. Tell the Angels by Vika and Linda
--------------------------------------------------------------------------------------------