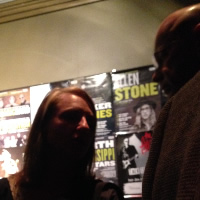 I went to the The Stray Sisters and these two jerks stood there chatting and ignoring the band.
I asked them to keep it down and the bloke said, "I can hear them fine - can't you?". What a prick.
Then later on he came up and said that as they had been talking around where I was, they'd take me back stage after the gig to meet the girls - as they were their cousins.
I declined their offer, but appreciated it.
But their talking was still an offence that will cost them a $2.62 each.