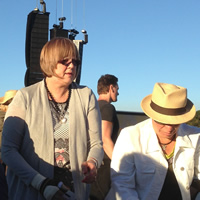 This woman and her friends behaved disgracefully at the Leonard Cohen day-on-the-green gig.
We all paid a lot to be there and that is because we wanted to go and listen to Leonard. We did not pay to listen to this troll who thought that she was hilarious.
She was not hilarious - not even close - she was annoying, loud, rude and disrespectful to all around her.
When asked to be quiet by a chap, she said no and became louder.
I hate her and fine her $49.99