Wednesday 20th November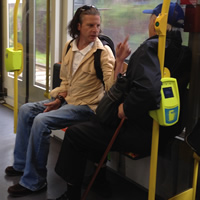 An elderly Asian chap with a mouth mask was sitting on the tram minding his own business.
Then this knob got on, sat next to him and started having a go for no reason at all - well, unless being a loser is a reason.
He was saying things like: "Wearing a mask is stupid - you look stupid". "You're Asian and should know better". "You don't know what you are doing because you're stupid". "What did you do in the World Wars?". Plus plenty more.
It was a weird collection of disjointed and rude things and then he got up and left the tram.
I am being lenient and will only fine him $37.19 but won't be sorry to hear that something nasty has happened to him.