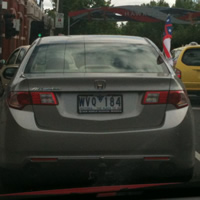 Driving along normally in the outside lane of two, the arse in the car was on the inside lane and was coming up to a parked car and started pulling out into me. I had to break to prevent an accident so hit the horn. He slammed on his brakes causing me and the queue behind to stop. He sat there waiting for I don't know what. I sat there and waited and Carolyn took the photo of the car with the flag on it's aerial. He then zoomed off and we carried on our merry way.
Soon after, we caught up with him again when he stopped at some traffic lights. He braked and stopped in the middle of the road again to (I suppose) annoy me - but it didn't work and I was happy to bide my time and not try and go around him. When the lights had turned to red, he zoomed through them - possibly to escape from me - though I wasn't chasing.
But no, when the lights changed he was waiting for us in a lay by and pulled out next to us waving his phone - possibly trying to take our photographs - how sweet.
He then pulled in about 1cm from the back of the car and swerved about back there. I remained calm and did nothing but carry on as though he wasn't there. I suspect that my lack of any reaction to his moves was making him more annoyed. Oh well.
He drifted into the inside lane ready for his next move without realising that I was turning right. When he saw that, he cut off the car behind and camped as close as he could to my tail as I tootled along ignoring him as he swerved side to side.
Eventually, at a roundabout, I turned left and he went around and back from whence we came.
So, for being King Arse of the Arse people and for being a bully and for trying to aggravate a confrontation and for trying to pressure me into something dangerous, I damn you to hell where your balls (if you have any) will be barbecued whilst still attached.
On behalf of all the people who may have had to deal with your madness before and for those who may be unfortunate enough to meet you in the future - you are fined $228.68 and can go and fuck yourself.